HELL - the Ever Present Danger
"But I will forewarn you whom ye shall fear: Fear him, which after he hath killed you hath power to cast into hell; yea, I say unto you, Fear him."
Luke 12:5
I am glad you have come to this page of our website, even though it discusses the black works of the foul beast with the horns and hooves. The cursed land of Hell is a key feature of any Christian's faith. For we must know our downfall in all its terrible detail to be able to avoid it - and, of course, scare people witless about it in order to convert them to the flock.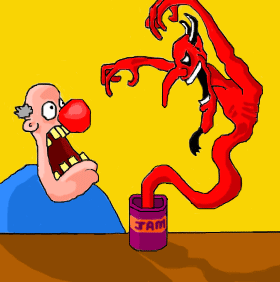 Think of an innocent child that has not the faintest inkling that such a horrible place exists as they skip about and play infantile games with finger paints. Surely there can be little doubt that they will be much happier when the horror of everlasting damnation has been explained to them in exhaustive detail, and the fact that they well may end up in Hell one day themselves has been drummed firmly into their little delicate heads.
We Christians know the dark one is watching us through the windows, from between the cracks in the pavement, peering out of the half open closet door and lurking under the bed. He watches and he licks the beautiful mouth God gave him with the foul black tongue of his own filthy corruption. And the place where he sits, this fiery pit of the dammed, is his realm. A realm given unto him by God, as an everlasting punishment for his dreadful pride and vanity. Here he broods on his throne of flies; here he makes his twisted plans to gain our souls.
To fully understand the everlasting terrors that await the unguided, we must first know their master. It is of great importance that we learn the history of the lord of lies, so we might better resist his artful caresses.